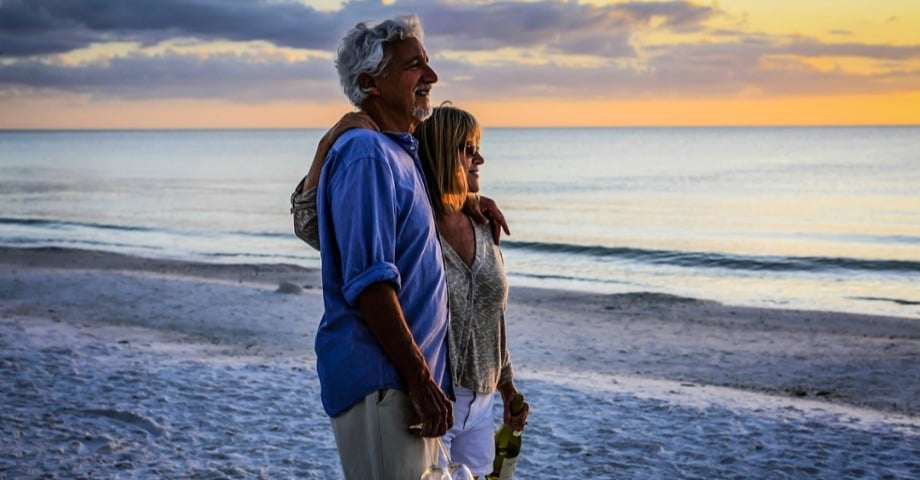 Year after year, Florida's population continues to grow. Many people moving to the Sunshine State are retirees relocating for the reason behind the state's nickname: There are over 230 days of sunshine a year, and even in the coldest months, the average daily temperature is 70 degrees or higher. The temperature rarely gets below 50 degrees.
Senior residents of the state also benefit financially from the tax-friendly policies. There is no state income tax, and permanent residents are eligible for up to $50,000 in homestead exemption, lowering their real estate taxes. Seniors may be eligible for additional tax exemptions, too.
While Florida's weather stays consistent, residents experience different cultures in the diverse set of cities and towns on the Atlantic and Gulf coasts, and in Central Florida, which still has plenty of opportunities to spend time near water with access to many lakes. If, for instance, evacuating from a hurricane seems too much of an inconvenience, the west coast of the state is less subject to intense weather than the east coast.
With plenty of places to choose from, here are the four best places to retire in Florida.
1. Naples
Naples consistently ranks as a top contender for best places to retire in Florida, and for good reason: Over 50 percent of its population is 65 or older, which provides a number of opportunities for creating community with others in the same phase of life.
Located on the southwest side of the state, Naples attracts retirees with its miles of beaches, beautiful homes, and giant banyan trees. The cost of living in Naples is higher than the average cost of living in both Florida and the U.S., and the median selling price of a home hovers around $399,000. However, Naples consistently ranks at the top of metro areas with the highest resident well-being. Health, financial security, community, and sense of purpose are significant contributors to residents' overall happiness.
NCH Healthcare System is the primary healthcare organization in the city, operating from hospitals in north Naples and downtown. Offering a range of specialties, including cardiac, cancer and geriatric care, and rehabilitation, NCH is a member of the Mayo Clinic Care Network, which connects its doctors with Mayo Clinic specialists.
2. Sarasota
The pace of life in Sarasota is a bit slower and more manageable than the closest major metropolitan area, Tampa-St. Petersburg, which is about an hour's drive to the north. With a rich colonial Spanish history, Sarasota offers plenty of amenities, including:
Over 100 upscale restaurants and stores
Miles of white sand beaches along the Gulf of Mexico
A lively and diverse arts scene that includes a ballet company, nationally recognized orchestra, and several art museums and galleries
Lush landscapes and subtropical wildlife at local parks and botanical gardens
The cost of living is slightly higher than the state and national average, which means you should be committing more to your retirement fund. The median home price for a house in the city is around $396,000 with increased prices nearing the coast.
With a population that is 27 percent 65 and over, retirees can benefit from the Sarasota Memorial Health Care system, which is one of Florida's largest public medical centers.
3. Venice
Venice is another city with a slower pace of life and plenty of stunning white sand beaches that provide expansive views of the Gulf. Although the pace is slower, there are plenty of amenities in the city's historic neighborhoods, including farmers' markets, shows at the Venice Theatre, performances by the Venice Symphony Orchestra at the Performing Arts Center, and more. With more than 30 parks, there are plenty of spaces to keep active and enjoy nature, too.
The median home price in Venice hovers around $400,000. With an active population of people 65 or older, there are plenty of health facilities, such as the Sarasota Memorial Health Care Center at Venice.
4. Lakeland
Conveniently located between Tampa and Orlando, Lakeland has one of the largest populations on this list with around 107,000 residents. Lakeland is full of Florida history and plenty of natural beauty to enjoy. Plus, the downtown area is nicknamed "Lakeland's Living Room" for its strong community spirit.
Currently, Lakeland real estate is some of the most affordable in the state. Median listing home prices are hovering around $295,000.
Due to its central location and proximity to several respected healthcare facilities, Lakeland has been named one of the best places in Florida to retire. Several other leading facilities are located just a short drive away in the metro areas of Orlando and Tampa.
Set Your Sights on the Best Places to Retire in Florida with Crews Banking
Your dreams of retiring in Florida are possible only if you are in the right financial situation. There are a lot of moving pieces that determine whether or not you are ready for retirement, which is why we created a retirement planner to make the process more manageable.
For more than 90 years, the family-owned Crews Banking Corporation has focused on serving the people and businesses of Florida. If you seek financial advice or more information on the financial benefits of moving to Florida, we would be happy to talk with you.